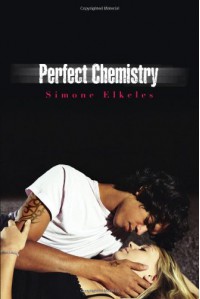 Perfect Chemistry brings us into the lives of Brittany and Alex, two seemingly very different people from opposites sides of town. She's rich, he's poor - she's white, he's latino - she's popular, he's in a gang. So what happens when they get paired up as chemistry partners in school and are forced to be around each other?
Oh, starcrossed lovers never gets old with me! What IS it about the boy from the wrong side of the tracks or the girl who everyone thinks is vapid and shallow but is secretly awesome? This is told from both Alex and Brittany's points of view and I don't think the book would have worked well without it. If things had been one sided, you might have thought less of the person whose perspective wasn't being told. I loved seeing how they started at two different points, went through their separate journeys, and then finally came together and met halfway. Don't shy away from this book if you think it's "just another starcrossed lovers' tale" - it's so much more than that! It's about what people are willing to do for those that they love.
I definitely recommend this book for contemporary fans, especially if you love a great LOVE story because Ms. Elkeles sure does know how to make things steamy!